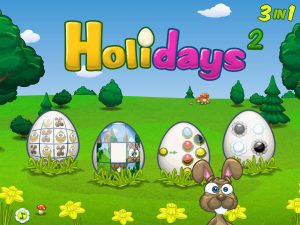 Holidays 2: Four festive educational games to stimulate memory, concentration and cognitive skills in bright children aged 4-7.
The 4 games in this great spring app are:
• CONNECT FOUR: Play against either the computer or a friend.
• SLIDE PUZZLE: Put the pieces in the right order again. Choose 3×3, 5×3 or 5×4 puzzle pieces.
• BUBBLE SHOOTER: Bring together 3 or more presents of the same color.
• TOY-CODE: Find the places where the 4 hidden toys are.
AWESOME FEATURE: Parents can select their children's favorite holiday in the settings: Easter, Halloween or Christmas. All THREE holidays come in this single app – NO extra charges, NO ads and NO in-app purchases!
While playing all these games in addition to having fun your children are developing and reinforcing all kinds of skills, including:
• An understanding of object permanence
• Spatial and bilateral awareness
• Logic and problem solving
• Persistence
• Independent play
And you don't have to worry about your children playing independently with my apps because I take their privacy and online safety very seriously. My apps include:
• no in-app purchases
• no links to websites outside the app
• no ads
• no data collection or tracking
• no social media sharing
Holidays is a collection of 4 spring themed games for kids aged 4-7 years old. THREE holidays (Easter, Halloween or Christmas) in one single App!
Die vier Spiele in dieser Sammlung sind:
• VIER GEWINNT: Hier kannst Du entweder gegen den Computer oder einen Freund spielen
• SCHIEBEPUZZLE: Bringe das Motiv wieder in die richtige Reihenfolge. Du kannst wählen ob es 3×3, 5×3 oder 5×4 Puzzle-Teile sein sollen.
• BUBBLE SHOOTER: Bringe mindestens 3 Gespenster der selben Farbe zusammen
• SPIELZEUG-CODE: Finde heraus an welcher Stelle welcher der 4 Figuren befindet.
SUPER FEATURE: In den Einstellungen können Eltern den Lieblingsfeiertag Ihres Kindes einstellen – Ostern, Halloween oder Weihnachten. Alle DREI Feiertage in einer App – ohne Aufpreis oder In-App-Käufe!!
Neben ungebremstem Spaß beim Spielen wird Dein Kind ausserdem die folgenden Fähigkeiten entwickeln und ausbauen:
• Logik und Problemlösung
• Feinmotorik
• Gedächtnistraining
• Selbstständiges Spielen
Solange Dein Kind mit meinen Apps spielt musst Du Dir keine Sorgen machen, denn ich nehme die Privatsphäre und Sicherheit von Kindern sehr Ernst! Meine Apps beinhalten:
• Keine In-App-Käufe
• Es werden keine Daten oder Informationen gesammelt
• Es wird kein Standort gespeichert
• Es gibt keine Push-Benachrichtigungen
• Es ist keine Internetverbindung nötig
• Es gibt keine Werbung und keine Datenweitergabe an Dritte
• Geschützte externe Links sind im gesicherten Eltern Bereich versteckt

Feiertag ist eine fröhliche, kleine Sammlung mit 4 frühlingshaften Spielen für Kinder zwischen 4-7 Jahren.