Spielplatz HD1
Playground 1 • Aire de jeux 1 • Parque infantile 1 • Campo giochi 1 • Plac zabaw 1 • Lekplats 1 • детская площадка 1 …
Spielplatz HD ist eine große Sammlung von 12 verschiedenen Spielen für Kinder.
1.) SUCHBILDER: 20 Suchbilder mit 5 Fehlern
2.) PAARE: 100 Motive / max. 15 Paare
3.) PUZZLE: 10 "Toddler" Puzzle mit 4 Teilen & 40 Puzzle mit 8 Teilen
4.) MALEN [iPad only!]: 15 Motive / 1 Leeres Blatt / 18 Farben / 3 Pinselgrößen / Farbeimer
5.) RADIEREN: 8 Rubbelbilder
6.) SCHIEBEPUZZLE: 8 Motive
7.) FANGEN: Fange 5 Tiere nach Vorgabe
8.) MERKEN: Versuche die vorgespielte Kombination zu wiederholen
9.) TIERKLAVIER: 4 Klaviermotive mit jeweils 8 Tieren
10.) SAMMELN: Hilf Mama Fisch in 25 Leveln jeweils 5 Sterne für Ihre Kinder zu sammeln
11.) DREHEN: Alternative für die kleinen zum Schiebepuzzle
12.) FARBEN: Bubble Shooter mit bunten Fischen
KEINE WERBUNG / KEINE IN-APP-EINKÄUFE

ENTSTEHUNG:
Zusammen mit meinen beiden Kleinen ( 4 + 2 Jahre ) habe ich eine App entwickelt, die ihre aktuellen Lieblingsspiele vereint. Wir haben versucht, alle Spiele auf dem Spielplatz so zu gestalten, dass sie möglichst übersichtlich und einfach bleiben. Störende Buttons, die den Spielfluss unterbrechen wurden ganz entfernt, in die oberen Ecken verbannt oder wenigstens gut versteckt. Zudem haben wir gemeinsam versucht die Dinge zu optimieren, die uns bei den bisherigen Spiele-Apps immer etwas gestört haben.
HINTERGRUND:
Irgendwann wird auch das schönste Spiel einmal langweilig. Die anschließende Suche nach "einem anderen Spiel" irgendwo auf dem iPad/iPhone war für die Kleinen (und mich) immer recht nervenaufreibend und frustrierend. Mit dieser Spielesammlung entfällt das glücklicherweise. Alle Spiele sind übersichtlich auf dem Startscreen angeordnet und Ihre Kinder können so selbst schnell das Spiel wechseln, ohne in den Weiten des iPads/iPhones verloren zu gehen.
ÜBER MICH:
Neben meinen Aktivitäten als Papa arbeite ich als selbstständiger Illustrator und Spieleentwickler. Scheuen Sie sich nicht mich zu kontaktieren, wenn Sie Verbesserungsvorschläge oder Ihre Kinder Motivwünsche für den Spielplatz haben.
iPad Screenshots

iPhone Screenshots

MY FAVORITE REVIEWS – THANKS TO ALL OF YOU!!
Jennifer Hammond [ via APPreciation ]:
My 3 kids are loving this app. Used most by my 9 year old with autism. She goes back to it often. Seems like she is not playing it once and memorizing everything. There remains a challeange for her still. The really nice part is she is excited to show us new things! So happy to have had the chance to review this. Definite 5 star app. Worth every cent! (even more so for my autistic child)
 –––––––––––––––––––––––––––––––––––––––––––––––––––––––––––––––––––––––––––––––––––––––––––––––––––––––––––––––––––––––––––––––
★★★★★ Wonderful!
This is a great app for toddlers and preschoolers! Games designed just at their level, with good learning embedded into it all. My 4 year old chooses to play it often, and the price is great.
★★★★★ Schlicht und einfach super!
Es gibt viele schöne Spiele, auch einige schöne Spielesammlungen, aber wenn ich nur mit meiner 5-jährigen und meinem iPad und einem Spiel auf eine Insel müsste, dann würde ich dieses nehmen.
★★★★★ Отличная игра!!!
Хорошая детская игра, сын 3,5г играет с удовольствием. Скачали сначала лайт версию и сразу же приобрели полную. Спасибо разработчикам)))
★★★★★ Ein Muss für Eltern mit Kindern
Absolut beste App. fuer Kinder von 3 bis 6 Jahren, schöne Bilder, vielseitig , viele Lernspiele , die Konzentration wird gefoerdert. Diese App. ist das Geld wert, sonst muss man einzeln für die Spiele bezahlen. Nach dem Update noch viel besser !
★★★★★ Très bien
Très bien pour jouer avec les enfants, simple et ludique, mes enfants de 3 et 5 ans aiment beaucoup et moi aussi!
 –––––––––––––––––––––––––––––––––––––––––––––––––––––––––––––––––––––––––––––––––––––––––––––––––––––––––––––––––––––––––––––––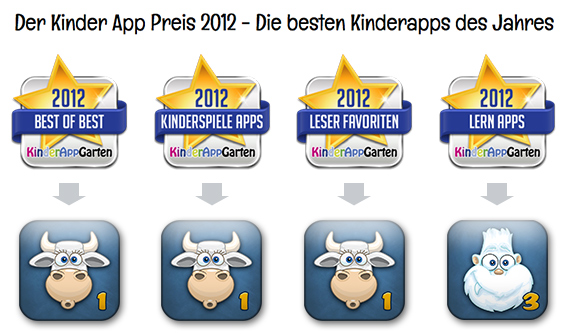 kinderappgarten.de: Spielplatz HD1 – Mehr Inhalt geht nicht.

"… Ich kann diese wun­der­bare Kinder-App unein­ge­schränkt wei­ter­emp­feh­len. Selbst wenn Ihr schon eins der Spiele aus der Samm­lung ander­wei­tig als App besitzt: So schön in einer ein­zi­gen Kin­der App ver­eint, fin­det Ihr diese Spiele nicht noch ein­mal im App Store.

Die Kin­der App wurde schon im Januar mit unse­rer höchs­ten Bewer­tung aus­ge­zeich­net, die jetzt noch mal bekräf­tigt wer­den soll: 5+1 Sterne Kin­der App Empfehlung. 

"Gold Award für exzel­lente Kin­der Apps"
bestappsforkids.org:
No need to buy 12 different apps, or 24 if they don't have levels! This app also offers our kids a taste of the world with 15 languages. Every game has a great info (instruction) page. If we used a star rating – this would be a 10. Games include, Finding, Colors, Matching, Puzzles, Drawing, Pairs, and more. You will see the quality in the videos below. This is a Must Have Teacher, Preschool and elementary app!
kidsbestipadapps.com: ★★★★★
"Playground HD1″ is like the "best-of" educational, fun apps for kids 2 to 6 years old all in one app. This smart kids app has 12 different games–including favorites like puzzles, matching, and drawing and new games like collecting fish and a bubble shooter with colored fishes. more…
topbestappsforkids.com: ★★★★★
Playground HD simply provides your child with important learning games which will support them through school but it is also suitable for pre-schoolers that can already try themselves out and have lots of fun while doing so.
Best Toddler Apps Org: TOP 10 App for Toddlers 2013
… Some of the sub-games are a huge hit with toddlers. The animal piano, where the kids get to pound a piano of cats, is a genius idea. Deleting the fog to reveal the picture below is also a great success with my sticky fingered pals. There are other games which are okay, such as matching pairs, but some are just impossible to do for kids under the age of 3.5 – 4, such as the games of finding the difference and slide and remember.
geekswithjuniors.com:
As someone who has reviewed many apps designed for juniors, I can testify that finding a good app is not an easy task. Finding one that can provide multiple activities for your juniors while still keeping their quality in check is even harder. Fortunately, I have found one that does just that. more…
appstar.tv: ★★★★★
Kinder lieben Abwechslung. Und die bekommen sie mit dieser Spielesammlung geboten. Ganze 12 unterschiedliche Spiele sind hier versammelt. Die Aufmachung der App ist kindgerecht, gleichzeitig helfen die Spiele dabei, Feinmotorik und Konzentration zu fördern. Hat das Kind keine Lust mehr auf ein Spiel, kann es einfach ein anderes auswählen. Zur Verfügung stehen Suchbilder, Puzzles, ein Bubble Shooter, ein Merkspiel, ein Tierklavier und viele andere Spiele. Selbst sehr junge Kinder können die App selbstständig bedienen. Grafisch ist die App schön bunt gestaltet, die Motive sind ebenfalls auf Kinder abgestimmt. Die einzelnen Spiele eignen sich für Kinder im Alter von zwei bis fünf Jahren, wobei man nicht ausschließen kann, dass sich auch Eltern einmal am Tierklavier oder dem Merkspiel versuchen. Durch einen integrierten Timer kann man festhalten, wie lange gespielt wurde. Das hilft dabei, festgelegte Zeiten einzuhalten. Die Spielesammlung kommt ohne Werbebanner und ohne In-App-Käufe daher.
funeducationalapps.com:
Looking for a great game app for your kids? Playground HD1 – 12 games for kids aged 2-6 in 1 App by Jan Essig is a top one! It features 12 different game in one app to help and support your kids learning.

Based on the comments from the reviewers at Review for Dev, this app is well designed, engaging and easy to use. Ideal for early childhood it offers a large selection of games including Puzzles, Memory, Find it, Piano, Draw, Erase, Catch, Remember and more! It is available in 15 languages!
itopnews.de:
iTOPNEWS-WERTUNG ★★★★★ 
"… Wir finden die Spiele-Sammlung gut durchdacht, liebevoll umgesetzt und äußerst abwechslungsreich. Da wünscht man sich glatt, noch einmal Kind sein zu dürfen. Die 3,99 Euro teure App ist den Preis wert, eine kostenlose Lite-Version lädt zum Testen ein. mehr"
Playground – 12 pedagogiska spel

"Playground" är en app som innehåller många olika pedagogiska spel för de yngsta barnen. De flesta spelen är klassiska och ur det perspektivet innehåller appen inte några överraskingar. Fördelen med den här appen är att man har allting samlat. … more
kidsbestipadapps.com: ★★★★★
"Playground HD1″ is like the "best-of" educational, fun apps for kids 2 to 6 years old all in one app. This smart kids app has 12 different games–including favorites like puzzles, matching, and drawing and new games like collecting fish and a bubble shooter with colored fishes.
more…
Le problème avec les jeux pour enfants, c'est qu'ils sont souvent courts. Alors quand votre progéniture les a terminé, il vous faut en trouver d'autres… C'est là que les applications comme Aire de Jeux peuvent être utile. Le titre propose pas moins de 12 jeux en un ! Vous y trouverez de tout, du piano au memory en passant par le jeu des 7 différences, du coloriage ou des puzzles. Plusieurs niveaux sont disponibles pour chaque. Cela laisse de quoi voir, vos enfants devraient y rester un bon bout de temps ! Le prix est en conséquence, pas loin de 4 euros. … plus
Several months ago, my clan had the good fortune of reviewing an app called Playground HD. This app combined several popular kid-friendly games in a single app, to really solid results. Now the latest version came to us again (the kiddos were happy about this) and there was even more to love. … more
iOS «Spielplatz HD» Spielsammlung für Kinder in einer iPad App


"Der App Entwickler Jan Essig hat einige der beliebtesten Apps für Kinder in eine einzige verpackt. Unterschiedliche Spiele welche die meisten von uns Erwachsenen sicherlich noch aus der eigenen Kindheit kennt, dazumals natürlich aber in analog. …mehr"
Con esta app Parque Infantil tenemos en una sola app un montón de juegos para que los peques de la casa se entretengan de una forma responsable y constructiva. En una sola app podrán tocar el piano, formar parejas, hacer puzzles de dos tipos, colorear, buscar las diferencias… y todo ello con un grupo de animales simpáticos a más no poder… mehr.
iphonekinderapps.de: ★★★★★

Vor einigen Wochen habe ich mal Ordnung in meine Vielzahl an Apps gebracht: alle schön systematisch nach Themengebieten in Ordner sortiert, natürlich auch die Kinder-Apps. Iduna (4,10 Jahre) tat sich daraufhin schwer, eine bestimmte App zu finden, denn die Icons der Apps in den Ordnern sind dann schon sehr klein. Hier setzt die Idee von Spielplatz HD an: für nur 2,99 Euro erhalten Sie einen tollen Grundstock an Kinderspielen in einer einzigen App zusammengefaßt. Ihr Kind braucht nicht mehr zu suchen, weil es für jedes der derzeit 9 Spiele in der App ein wirklich großes und aussagekräftiges Icon innerhalb dieser einen App gibt. … mehr.



Why we like it?
A nice and sturdy playground app, with lots of entertaining options. Carefully produced, available in 16 languages: English, Chinese, Czech, Danish, Dutch, French, German, Italian, Japanese, Korean, Polish, Portuguese, Russian, Spanish, Swedish and Turkish. Worth the pick!
"Forget about downloading multiple apps to ensure all your kid's favorite games are on your iPad. Install one and be done with Playground HD, a collection of nine popular games, handpicked with the help of the developer's own children.

Staring a stellar set of animal characters (frogs, cows, cats and fish!) Playground HD gives kids a chance to solve puzzles, search for differences in pictures, color and draw pictures you can save, scratch off scenes to discover new friends, match pairs to improve memory skills, solve sliding puzzles, think fast to catch five animals of the same kind, play an animal-themed piano and remember song combinations. …"
 –––––––––––––––––––––––––––––––––––––––––––––––––––––––––––––––––––––––––––––––––––––––––––––––––––––––––––––––––––––––––––––––
"Besonders hervorheben wollen wir die Tatsache, dass Spielplatz HD keine Werbung und keine In-App-Käufe enthält."
 –––––––––––––––––––––––––––––––––––––––––––––––––––––––––––––––––––––––––––––––––––––––––––––––––––––––––––––––––––––––––––––––
crazymikesapps.com:
Playground HD (by Jan Essig) is an application for young children that combines 12 different activities into one convenient app with activities ranging from spot-the-difference, card matching, puzzles, drawing/painting, a musical piano keyboard, to games — there are way too many activities to easily list, but I will: Search, Pairs, Puzzle, Draw, Erase, Slide, Catch, Remember, Piano, Collect, Roll, and Color. …more
 –––––––––––––––––––––––––––––––––––––––––––––––––––––––––––––––––––––––––––––––––––––––––––––––––––––––––––––––––––––––––––––––
1. Spielplatz HD (iPad) bzw Spielplatz mini (iPhone)
Eine der schönsten Spielesammlungen ist «Spielplatz HD» von Jan Essig. Der Familienvater erweitert seine Kinderapp laufend und setzt sogar Nutzerwünsche um. Die App deckt nahezu alle wichtigen Kinderspiel-Sparten ab, sei es Puzzle, Memo-Spiel, Fehlersuchbilder oder Reaktionsspiele. In der iPad Version ist auch ein gelungenes Malbuch integriert. Ein wunderbarer Einstieg in die Kinderapp-Welt.
 –––––––––––––––––––––––––––––––––––––––––––––––––––––––––––––––––––––––––––––––––––––––––––––––––––––––––––––––––––––––––––––––
theiphoneappreview.com: Review on Playground HD
Typically, we might be tempted to call an app that costs $3.99 a bit expensive, however, in the case of Playground HD we're more than willing to make an exception. For less than the cost of a Starbucks latte, you can give your child the gift of 12 unique, engaging, and cute games to play on the iPad. To us, that's an incredible bargain, and one we're ready to call a must-have. … more